Frequently asked questions
6k Paddle
---
Racers can enter in a solo, relay, or tandem division for the triathlon. All boaters must wear a USCG approved life jacket during competition. The race will begin and end at Bay Point Park. Race participant will park in the overflow parking lot across the road from the park. Boaters will carry their boats in using the west boat launch and corral in the bay to the West of the park where a mass start will occur. A lead boat with a motor will guide the leaders along the course and a sweeping boat will make sure they follow the course and to be on-site in the event of a water emergency. Boater will pool on the West end of Bay Point Park where the mass start race will begin. A lead boat will guide racers out of the harbor and along the shores of Red Wing quickly merging onto the Mississippi River and head down stream staying to the right of the red navigational buoys as they pass the shores of downtown Red Wing. Once under the bridge, paddlers will hug the left shoreline and turn left in a short upstream sprint into one of the backwater channels. Boaters will then travel through some of the scenic backwaters of the Mississippi before returning and crossing the main channel of the river and going around Colvill Park. As you approach the shoreline with the playground on your right, there is 1km left around the park to take out at the cement bottom boat landing on the West end of Colvill Park. There, volunteers will assist in moving racers' boats if racers wish so they can more quickly move to the transition zone. Boats should not have any assisting devices such as sails, peddles, motors, etc., unless requesting accommodations for inclusive racing.
---
10k Pedal
---
This 10k bike is a mixture of road, grass trails, and single track mountain bike trails with optional mountain bike features. All racers are required to wear a bicycle helmet. Racers will exit the transition zone and follow the trail counterclockwise around Colvill Park and exit heading West on Nymphara Lane before taking a left on East 7th street. Bikers will then merge briefly onto Highway 61 with a nice wide shoulder before taking a right onto Golf Links Drive. Near the golf course clubhouse, racers will then turn right onto the golf cart path and begin their 1.5k ascent up Memorial Bluff on a double wide ski trail. At the top, bikers will bike through bluff top prairies with vistas of Red Wing before entering onto a series of single track mountain bike trails with optional features that include ramps, jumps, and berms. Bikers will then return to a wider trail for their descent down the bluff on the grass trail with a 180 switch back before merging on to Wilkinson Street. There is a pinch point between two boulders here to prevent motorized vehicles from accessing the trail. Bikers will then turn right on East 7th street and then left on the eastern descent of Nymphara Lane before returning to Colvill Park and back into the transition zone. Community Safety Officers will be onsite to assist with traffic control.
For a more accurate route use the link below and select graph in the lower left hand corner to see elevation and speed: https://www.sports-tracker.com/workout/michaelwendland/60579854ddaef570a5fb4e3a
---
10k Run
---
This 10k road race will follow a paved course from Colvill Park back to Bay Point. Racers will again depart the Colvill Park transition zone and head up Nymphara Lane and turn right on East 7th Street between Memorial Bluff and He Mni Can (Barn Bluff). They will follow this street with the parking lane closed for racers and traffic controlled intersections for before turning right on East Ave. Racers will run around Central Park and take a left on 4th Ave. Racers will then slowly ascend along 4th Ave through Red Wing's Historic Residential District before it turns right and becomes Buchanan St. Racers will then descend down Featherstone Rd and then turn right onto Hay Creek Trail. Here racers will enjoy a winding and scenic paved trail along Hay Creek and then ascend the sidewalk along Withers Harbor Drive. Racers will then cross the controlled intersection and descend along Withers Harbor Drive and merge on to the paved trail and follow it right as it runs along 1.1k along Levee Road. Racers will then enter Bay Point Park entering the sidewalk on the eastern side of the park with an .8k finish that goes around the Teepee to the finish line.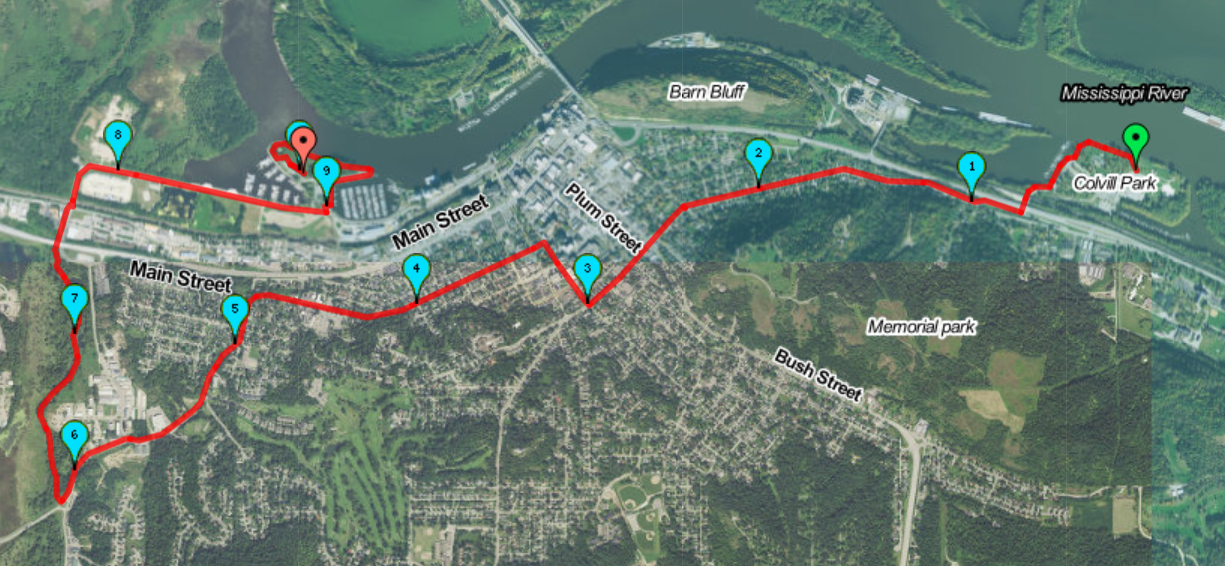 ---
4k Run/Walk/Wheel
---
This part of the event will happen at the same time as the triathlon, starting at Baypoint at the same time as the paddlers begin. This will be a self-timed, out and back route, leaving from Baypoint, following the path that runs along the river, past the boat houses in the Red Wing Bay, down and around Levee Park and then back. This part of the event is great for anyone who wants to participate in a more leisurely way and is meant to include all ages and abilities, such as families with young children and members of a group home. The entire route is paved and relatively flat to accommodate strollers and mobility devices.
---
---